Data analysis and visualization is used to cleanse Hospitality and Travel Industry Data in a Big Data environment to identify patterns and anomalies in pricing and demand by segment, day of week, month of year, days before arrival, same day last year, etc.
Data is ingested, transformed and aggregated in real time on a BIG data stack in a cloud environment.
State-of-the-art cloud engineering is performed using Cloud Services like EC2, S3, IAM and big data tools like EMR and Athena. This ensures scalability to thousands of hotels while maintaining sub-second response time. Care is taken to sift through large swathes of data to surface only the relevant pieces in an accurate and timely fashion. AI robots sift through Terabytes of data and identify demand or price movements and notify the user with actionable intelligence.

Unique pipeline process consists of the following steps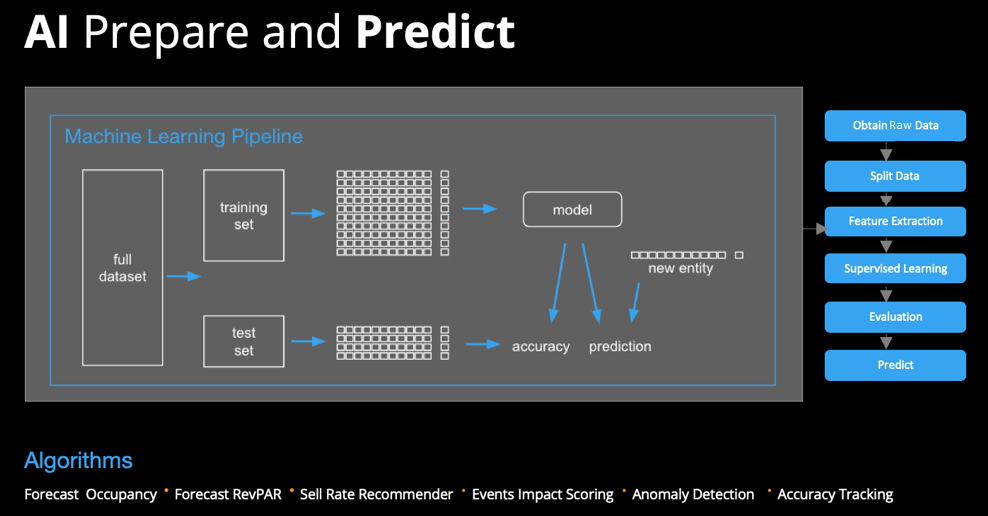 Ingestion of data on a daily basis at a Market, Property and Compset level. LodgIQ has a state of the art machine learning pipeline to train, test and tune models.
LodgIQ is the only company in the travel industry that uses predictive analytics to forecast day by day occupancy, ADR, RevPAR and demand every day for a 365 day future horizon.
We track and tune models for Forecasting and Pricing on a daily basis to measure accuracy using evaluation metrics like MAPE (mean absolute percentage error) and MAE (mean absolute error) between predicted and actualized values. These evaluation metrics are tracked across several dimensions: day of the week (DOW), days before arrival (DBA) and segments (transient, group or corporate).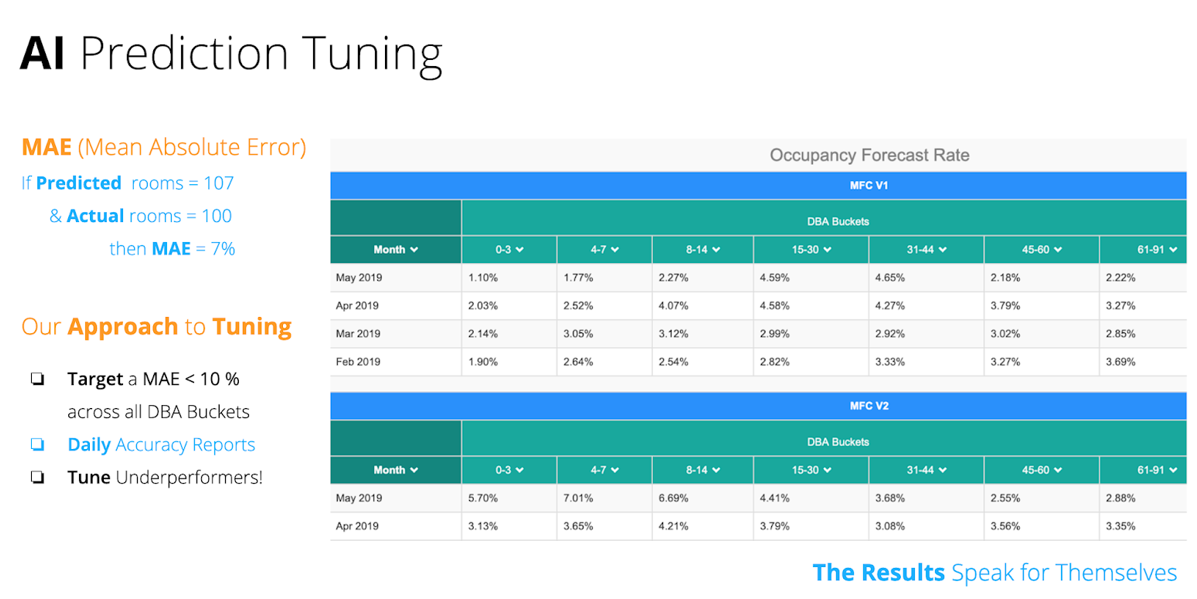 LodgIQ  Pricing engine is a third generation pricing algorithm.  The guiding design principles were:
Sound mathematical foundation – no adhoc rules!

Flexibility and configurability

Minimum data requirements

Interpretability  – Being able to explain the reasoning in business friendly terms

Extensibility – pricing by room_type,  by length-of-stay and by segment
Pricing engine is based on creating two separate models:
A model for

total demand

that is inelastic, that is, not dependent on price.  This may depend on other features such as days-before-arrival, day-of-the-week, month-of-the-year, events, etc. This is the

total number of people interested in staying.

A model for

willingness to pay

. 

This is the distribution of the random variable W

, the willingness-to-pay, defined as the

maximum price

that a random customer is willing to pay for a night's stay.  We will assume W 

usually has a

log-normal

distribution.
Pricing Conceptual View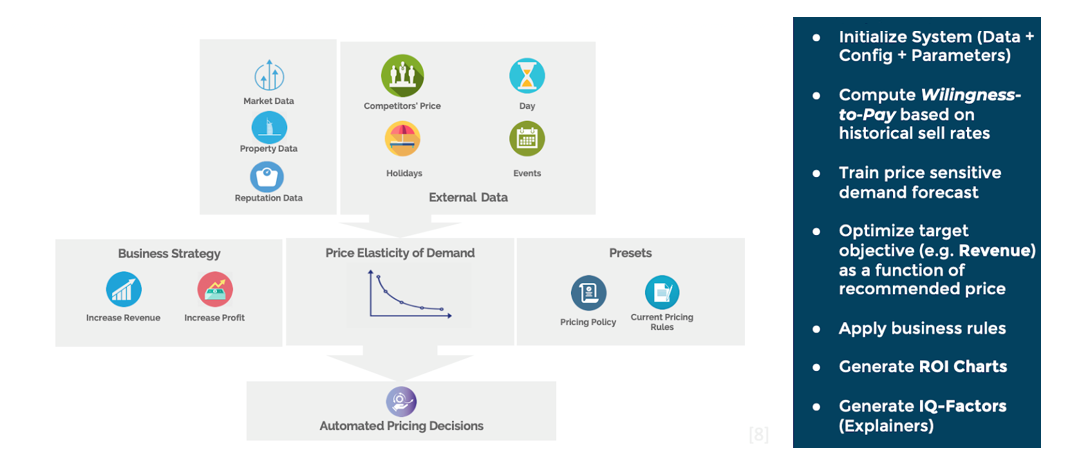 At a given price point p, for a given vector of features (asof-date, stay-date combination, rooms OTB, etc.) the number of rooms sold is the number of customers in the demand pool that are willing to pay the price and the total demand D.
What-IF experimentation tool to interactive identify optimized price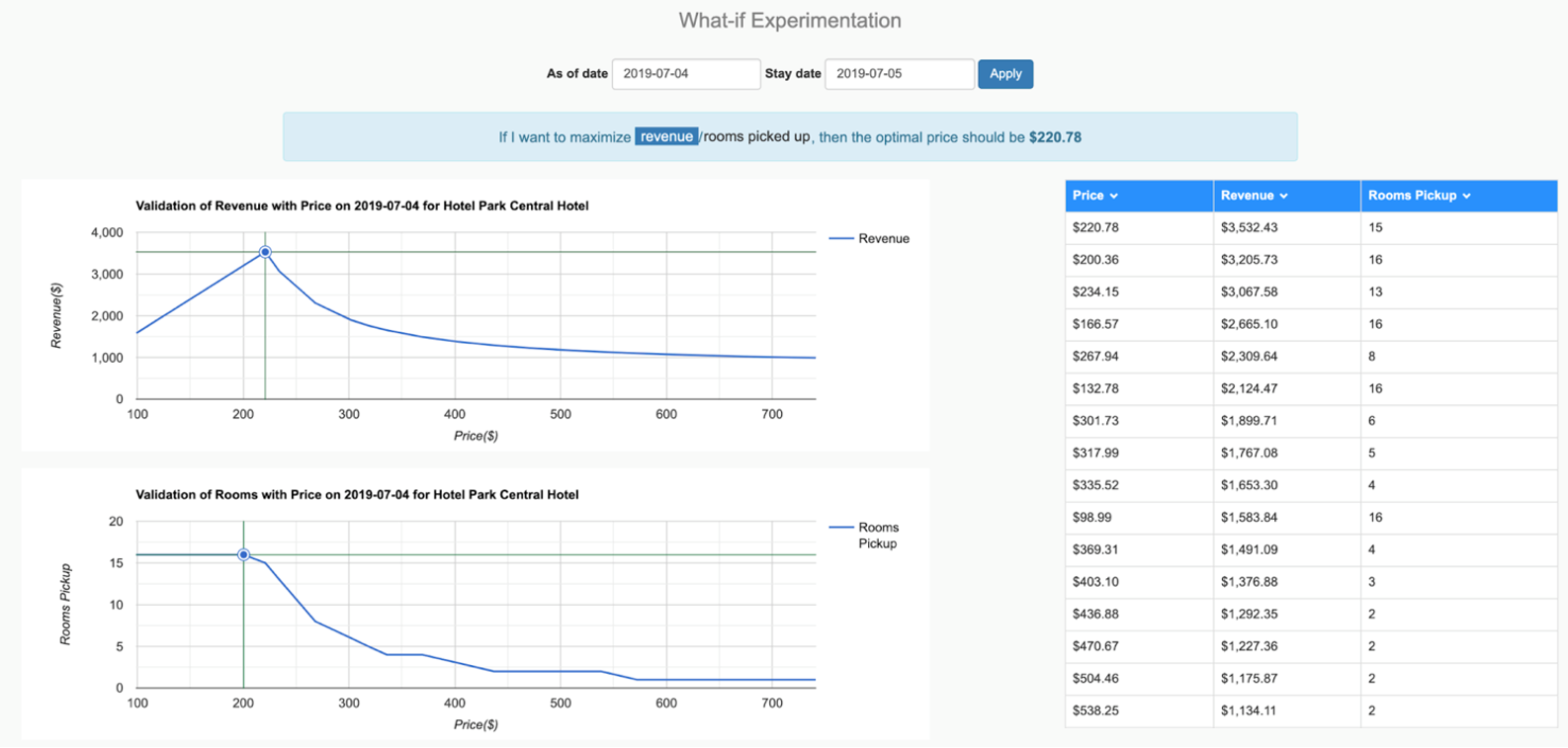 The results of these sophisticated algorithms are packaged as API and presented to the applications.
API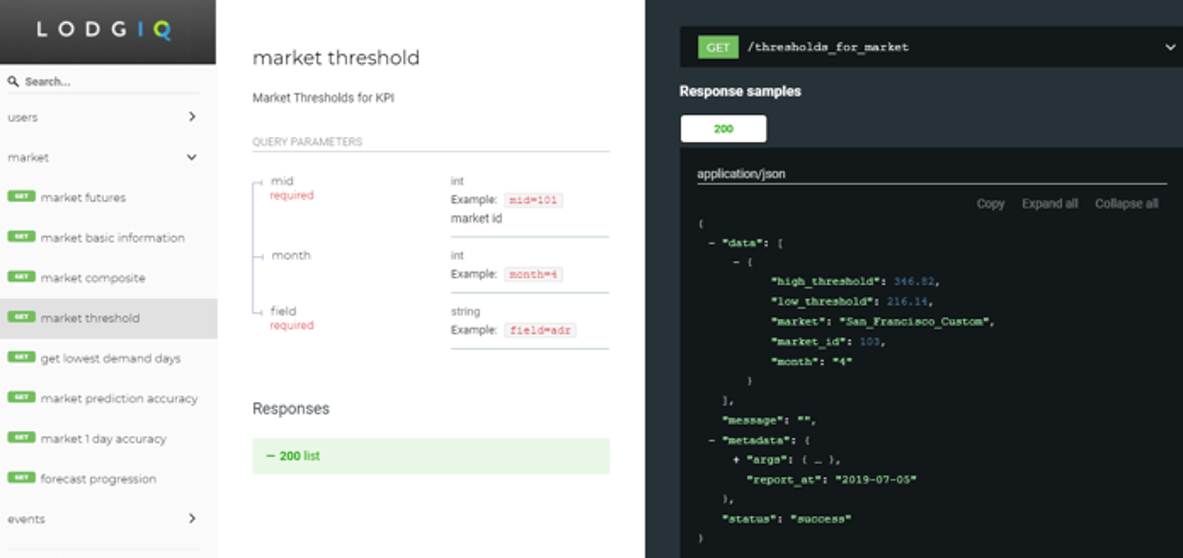 .